'DAWSON CITY: FROZEN TIME' (2016)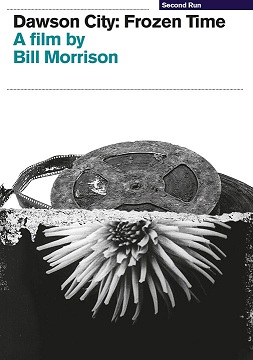 - A review by Richard Harrison (2019)

I've always been fascinated by discoveries. Whether they are lost catacombs or lost manuscripts, the idea of something going missing and then being found- often in dramatic or unexpected fashion- appeals to me. I'm also a great lover of both silent and experimental cinema, so the work of Bill Morrison- for me one of the most important filmmakers working today- resonates all the more strongly. I first became aware of Morrison through his beautiful and inspiring film Decasia (2002), where, like all true artists, he helps us see the world differently and also provides visually inspiring compositions. Thus, I approached Dawson City: Frozen Time, his latest film, with higher than average expectations.

Dawson City: Frozen Time celebrates a remarkable horde of nitrate celluloid film found beneath the ice in Dawson City- a remote Yukon town- and from the outset is typically clever and thoughtful. Rather than simply unfurl the narrative of these films being discovered with a semi-indecent haste, Morrison outlines (with the painstaking help of many fragments located in this remarkable discovery) the history of Dawson City itself, and then how the films came to be there. By putting things firmly into both social and historical context, the documentary has much more force, power and meaning, for it is as much a documentary about history than it is about film per se.

The archive footage, which encompasses other silent films - such as Chaplin's The Gold Rush (1925) and The Trail of '98 (1928)- plus newsreels and material found in Dawson City (both photographs and moving images), is used to support the epic story being told. This 'thematicisation' of the film fragments is innovative and intelligent, providing an opportunity to use more clips than perhaps a standard documentary would. The Dawson City Film Find clips are especially tantalising, offering "a window into a time that's gone" as Bill Morrison puts it in a modest, fascinating interview that is one of the extras. Each clip- even if on screen for a second or two- is identified, and the appetite whetted. But, these are mere fragments- invariably of films that, sadly, no longer exist. That makes their inclusion all the more poetic, as they are precious examples of what the people of Dawson City saw over a century ago. Their inclusion throughout the film gives Dawson City: Frozen Time a greater immediacy and poignancy.

Rather than use voiceover narration throughout (either through direct address or via interviews, though the film is book-ended with some), Morrison opts for a brief yet meticulously-researched text. The unhurried, leisurely approach is all the more fitting considering the subject matter- the town which was literally 'the end of the line' for films in the early 1910s. At the centre of much of the film's narrative is the Dawson Amateur Athletic Association (DAAA) building, its frequent appearances making it feel like (paradoxically) someone you have just met, yet someone you feel that you have known for years. In fact, the whole film feels like that- its focus on Dawson City makes you care about the town, its triumphs and its tragedies. That the latter are featured more prominently is another reason to feel sad.

The music by Alex Somers is an aural tapestry that evokes with astonishing richness the sentiments throughout the film, its lyrical quality being such that I would value a separate soundtrack CD. It is this as well as the comprehensive and powerful collection of images that makes Dawson City: Frozen Time an outstanding and absorbing documentary. Having a story to tell is one thing, but finding such an engaging way of telling it is quite another. By locating images that can be synthesised together to support such a remarkable narrative, Bill Morrison achieves a phenomenal piece of art- something that transcends the world of cinema to chronicle human lives in a remote part of the Yukon.

Ultimately, though many of the Dawson City Film Find discoveries were only fragments of longer films, their images (invariably with water damaged edges) have a magic that is a result of their rarity. It is because we are seeing much of the surviving footage from certain films that they seem more precious. Like Morrison's Decasia, the damaged nitrate becomes compelling- especially so when woven together within the fabric of Morrison's narrative. This innovative way of bringing to light (and to life) the discovered films under the Dawson City ice showcases the diverse nature of the recovered material, yet also captures the spirit of the era. We care about Dawson City because Morrison's film is essentially a very human film about a community and its resilience. Thus, in watching Dawson City: Frozen Time and its narrative of the films located under the ice, we might also discover something about ourselves along the way.

'Dawson City: Frozen Time' is available from Second Run on both Blu-Ray and DVD.

---