- This essay will inevitably contain spoilers!

'HANNIE CAULDER' (1971)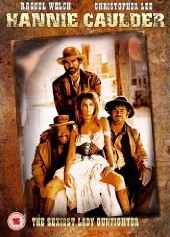 - A review by Richard Harrison (2010)

In the heady world of film criticism, where some very average films are held aloft in unquestioned exaltation as masterpieces (it would be inappropriate to mention any specific titles here but The Magnificent Ambersons does readily spring to mind), there are others that are vastly underrated. One such film is Hannie Caulder, notable for several aspects- not least as a British Western (no- I can't either).

Released in 1971, Hannie Caulder can be considered a Revisionist Western in its presentation of a sassy, female gun-toting vigilante, for it takes conventional aspects of the genre and subverts them in order to do something different. In this the film fits comfortably into the other Westerns in the early 1970s (such as The Culpepper Cattle Co. and The Cowboys) yet in turn differentiates itself from them. Hannie Caulder is a British film, but it does not shout this from every frame as those set in the grimy North or in a landmark-filled metropolis do. Indeed, Tigon as a company sought to avoid such familiar images, preferring instead to create almost an alternative Britain whereby the audience was helped (through vibrant and exotic mise-en-scene) to forget the nationality of what they were watching. Contextually, Hannie Caulder is one of just two films Tigon distributed, and one of a mere 14 produced by Tigon in the period 1968-1972. Despite not being a horror film (as much of Tigon's output was), Hannie Caulder has characteristically beautiful cinematography, the shoreline scenes beside Bailey's home being one major example.

The structure of Hannie Caulder is not a complex one, but this is no bad thing. In fact, the focused narrative enables Hannie's character to develop midst the stunningly plausible setting (the film was shot in Spain, as were several other Westerns at the time). One crucial necessity for the film to work is in the persona of Hannie- she has to inspire a wealth of emotions in us, the audience, but, above all, we must like her. Raquel Welch plays the role to perfection, striking a fine balance between sex-kitten and empathy-inducing killer seeking revenge, and charts a highly credible as well as satisfying character development across the film's running time.

Thus, Hannie Caulder herself has great plausibility. She does not, as has been the case in more modern movie heroes, learn to shoot overnight, but learns gradually through the patient training of Thomas Price (Culp). This initiation could have been glossed over, as if unimportant and not providing the action the genre demands. However, the fact that we get to learn along with Hannie aligns us with her character, shows the development of the Caulder-Price relationship and also makes us conscious of time- this is relatively short, and Hannie must be ready to face her destiny. Time is an important theme in Hannie Caulder, being manipulated throughout to relate to human experience and bringing us closer to our heroic characters as the end draws near.

Welch is ably supported by a fine cast- Robert Culp gives a career-defining performance as the grizzled bounty-hunter who takes Hannie under his gunslinging wing, Christopher Lee is magnetic and barely recognisable, and Diana Dors provides a neat cameo. The film's only weak point is in the Clemens brothers themselves. True, they become a trio to inspire hatred (as all good villains must) but they are too clownlike- too inept- to be fully credible. However, I suppose they are such exaggerated blunderers to provide comic relief, although that is often in the superb dialogue between Hannie and those she encounters.

By the closing scenes of the film, if writer and director Burt Kennedy has done his job, we should be rooting for Hannie- willing her to succeed. The closing section of Hannie Caulder, which is the culmination of the development in its previous hour, is a masterpiece of aggressive tenseness. It is in this arena where a good film either suddenly collapses like a deck of cards in a strong gale or becomes a great film. Hannie Caulder, a great film for its previous hour, continues that trend.

It is almost unfashionable, no doubt, to champion a film that has a simple narrative, basic villains and that is a British-made Western movie shot in Spain. However, fashion is something that hasn't ever particularly bothered me- but great films have. Hannie Caulder is, without doubt, a highly satisfying film- and should be considered one of the great Westerns.


Hannie Caulder is available on DVD from Odeon Entertainment.

---