- This essay will inevitably contain spoilers!

'IAN DURY- SEX DRUGS & ROCK & ROLL & OTHER ASSORTED GLIMPSES' (2010)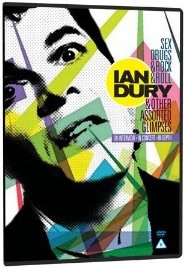 - A review by Richard Harrison (2010)

The relationship between childhood and adulthood likes and dislikes is a very odd one indeed- things we valued deeply in our 'salad days' are sometimes heartlessly discarded once serious adolescence is reached. Revisiting such pleasures we experienced in childhood is always a somewhat curious sensation- mingling curiosity with trepidation, anticipation with fear. It was in almost this state of mind that I approached Ian Dury- Sex Drugs & Rock & Roll & Other Assorted Glimpses , being a fan of Hit Me With Your Rhythm Stick when I was knee-high to the proverbial grasshopper. Now, older (if not necessarily wiser), I approach the work of Mr. Dury with caution, so this new release from Odeon Entertainment was an excuse to re-assess the past as well as the present.

The first question to be asked about any compilation DVD such as this is related to what it includes. In this case, interviews with Dury himself provide the foundation for a host of television performances spanning the breadth of a career which began in the 1970s and lasted until Dury's untimely death in the year 2000. Thus, the material flows as it is anchored by the words of the man himself- a backbone is established, which makes the accompanying music seem more relevant, more cohesive. From the outset (with a performance of Rough Kids), the rasp of the Dury voice is evident, the timbre that makes Frank Sinatra's delivery sound in tune. But, is singing a song perfectly in tune the essence of Dury's music? No, at least, not purely. The music of Ian Dury (not forgetting the Blockheads, who provide admirable support throughout the footage) is witty social comment coupled with the aura of performance- Dury himself strikes an enigmatic and charismatic figure, magnetically drawing your eyes to his presence. The only downside for the layman is that this visual magnetism does not translate to the aural sound of the band- thus, seeing Ian Dury is very different to just hearing him.

One of the notable things about Ian Dury and the Blockheads (and their fans) is the level of devotion they inspire, a facet that fans of some more recent bands do not have. Yes, people go to see their favourite band in concert- but often within a few years CDs are sold off at car boot sales, the impact of the music forgotten in the dreadfully fashionable desire to "de-clutter" (surely one of the most objectionable phrases in current useage). Whatever your perception of Ian Dury's music it cannot be denied that his fans are usually a devoted breed, people who value not only the music but the man himself, a figure now destined to be a tragic one because of his early death (he was just 57) and what he stood for (a leading figure of the post-punk New Wave in British music). With a release such as this the additional question is how much is essential and how much of the content is 'for collectors only' (= usually bad sound/picture quality, included for its rarity rather than its 'watchability'). In this case, both parties are amply catered for- the hits are there (I did linger particularly over a live version of Hit Me With Your Rhythm Stick which featured Dury chewing gum and barely audible above an insistent backing) but so is the rare footage- much of it previously unseen, certainly in a collection such as this. The only downside to what is wonderful archive footage (the vast majority of it in outstanding picture quality) is the lack of exact details as to programme and date of recording, although a reunion concert at Ronnie Scott's club in 1997 is present.

The extra features on the disc document Ian Dury's reactions to a variety of topics culled from archive interviews, and provides welcome relief from a music dominated main programme. In short, despite its unwieldy title, Ian Dury- Sex Drugs & Rock & Roll & Other Assorted Glimpses is heartily recommended, but being a fan of the music at some level is a pre-requisite. As for me, were childhood memories re-kindled? Yes. Can I count myself as an Ian Dury fan? No. Maybe in some ways it is time to discard the past.

Ian Dury- Sex Drugs & Rock & Roll & Other Assorted Glimpses is available from Odeon Entertainment.


---