'NAKED AS NATURE INTENDED' (1961) and 'SECRETS OF A WINDMILL GIRL' (1966)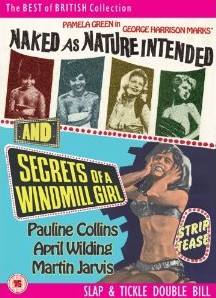 - A review by Richard Harrison (2011)

On a first glance, the two films featured on this single disc in the saucily-titled 'Slap and Tickle' collection have much in common- both were made in the 1960s, both include a voice-over narrator, and both include women divesting themselves of clothing. Closer investigation shows that, despite these initial similarities, both films are very different in their approach, tone and, above all, content, which make them an intriguing (and surprisingly successful) pairing.

The earlier film- Naked As Nature Intended- was made in 1961, and is a travelogue-cum-art film featuring three working girls going to the beach to escape the humdrum monotony of their everyday lives. This story is told in parallel with that of two girls travelling to a nudist beach, and it's barely any surprise that the innocent pleasures of the latter are soon introduced to our three working class heroines. This plot outline does not, however, do the film justice- the journey to the coast includes sweeping pans of the beautiful scenery and the occasional lesson in history (such as when the girls visit Stonehenge and later Tintagel). It is this educational aspect that makes Naked As Nature Intended somewhat surprising, as a disembodied narrator (with the occasional weak joke) is present throughout. Early in the film, after filling us in on the girls' backgrounds, he comments sagely 'now you know as much as I do', heightening the feeling of this being a very personal story.

Despite its title, the film features no full nudity- handily placed bags and rocks ensure that we do not see what would have made the film unacceptable to the censor at the time. Naturally, there is a surfeit of shots featuring the breasts of the girls concerned, which only becomes shocking when they are introduced to the very elderly couple who are in charge of the nudist club. The film's art status is established in the opening shot- a single static camera runs for 90 seconds without a cut nor significant action before the opening credits come up, and overall the film is a quaint time-capsule of innocence, a malice-free look at the burgeoning phenomenon of nudist beaches.

The film, although transferred from the best available elements, has some marks and scratches on its print which also jumps occasionally. It is still, however, perfectly watchable.

Secrets of a Windmill Girl, the other film on the disc, was made in 1966- and is very much a different beast. For a start, nudity/ the absence of clothing is more incidental than motivated by plot demands- in other words, we see quite a lot of female flesh because it is necessary to tell the story, rather than out of any exploitative desire. Another key difference between the films can be found in their openings- this later film opens with high drama, setting a different tone from the outset. The narrative of Secrets of a Windmill Girl, by its very nature, is much more sober than that of Naked As Nature Intended , and we are made to feel slightly uneasy as a result.

Differences aside, both films can be placed in historical/social context- Secrets of a Windmill Girl provides an invaluable record of the Windmill Theatre by including real-life Windmill girls and Theatre staff alongside actors and actresses (Pauline Collins as Pat and a youthful Martin Jarvis as Mike excel). In its inclusion of a 'serious' cast, Secrets of a Windmill Girl is designed to be taken seriously, and also to tell a story- through all the lengthy documentary-like sequences of the "turns" at the Windmill Theatre, a genuine air of humanity shines through, and we can relate to the characters- which we cannot in Naked As Nature Intended .

Interestingly, Secrets of a Windmill Girl, as a product of the late 1960s, is far more "swinging" than its 1961 disc-mate. More or less every aspect of the counter-culture is present in the 1966 film, culminating in the party scene with the red filter and subjective cinematography. The sudden ending is perhaps a weakness- but it does signal a more adult/ mature attitude rather than the almost fairytale-like narration of the 1961 film.

Both 1960s films on this disc represent a fascinating glimpse of ground which was not explored in more commercial, mainstream cinema. Thus, their offbeat nature (not to say the amount of flesh on display) may not be for everyone. For students of British cinema, though, the disc represents a very necessary addition to the canon of exploitation films. The sleevenotes, though brief, are an excellent, informative read, and Odeon Entertainment are to be warmly commended for having the foresight to release these two films into as world that is very different indeed from that featured in Naked As Nature Intended and Secrets of a Windmill Girl.

The double bill of Naked As Nature Intended and Secrets of a Windmill Girl is available now from Odeon Entertainment.

---