'THE ORIGINAL NANCY DREW MOVIE MYSTERY COLLECTION' (1938/1939)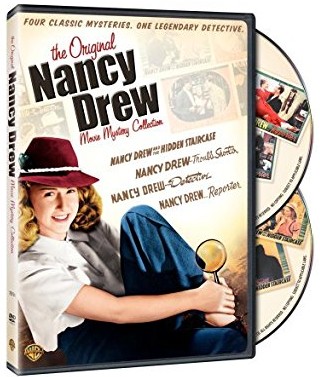 On New Year's Day, caught in The Land of Indecision as film fans often are, I mentally then physically scanned the DVDs on the shelf in search of something to watch. It wasn't just anything I was looking for, but something I really fancied. Sitting down to watch a melodrama when you feel like a comedy, or choosing a light-hearted movie when you are in the mood to be gripped and thrilled just doesn't cut it. On this particular occasion, I felt like an old movie (which didn't really narrow the choices down!), but then I remembered buying a 4 film set of the 'Nancy Drew' films. Not only would they fit the bill in terms of timeframe (potentially no longer than 80 minutes), they would also allow me to curl up and enjoy a mystery/adventure movie. It was also a set which I'd meant to investigate. For all these reasons, I located it and tugged enthusiastically at the plastic wrap which protected the contents within.

In case you ever feel like emulating my experience, the set in question was released by Warner Brothers- astonishingly a shade over ten years ago now- in 2007. It contains all four of the films made in 1938/1939 starring Bonita Granville as the female sleuth and Frankie Thomas as her next door neighbour and sidekick Ted Nickerson. Deciding to start (as one most often should) at the beginning, the first movie I saw in 2018 was Nancy Drew, Detective.

Aside from the sharpness of the print, the perhaps surprising thing about the film was its quality. Even though it was a 'B movie' (so destined to be a "filler" on the bill rather than the main attraction), it does not skimp on performances nor scope- and one is never left thinking it was a film made on a limited budget. Aside from Granville's immediately engaging Nancy Drew (sassy, independent, headstrong though obviously feminine), the other members of the cast are excellent- and the whole feel is of an ensemble cast who are their characters rather than simply playing the roles assigned to them. Frankie Thomas excels in both naturalistic performance and physicality, his presence essential for a light vein of comedy that runs through the film without becoming farcical or silly.

2018 is, co-incidentally, the 80th anniversary of this first 'Nancy Drew' film- and it has worn very well indeed. The next year, 1939, the actors made a further three films in the series (though Frankie Thomas recalled making a fifth entry). Despite a 2007 feature film, it should be these monochrome films that fans return to for their warmth and sheer entertaining nature. On 2nd January, I watched Nancy Drew- Reporter, the second film in the series, and it will be difficult not to resist watching the rest on subsequent days. In these days of widespread availability, choosing something to watch can be hard- but I am fully convinced that, on the first night of the new year, that I made the right choice.


'The Original Nancy Drew Movie Mystery Collection' is available on DVD as a Region One set, meaning UK readers should check their DVD players to ensure they can cope with Region One (U.S.) discs.

---