- This essay will inevitably contain spoilers!

'THE STATUE' (1971)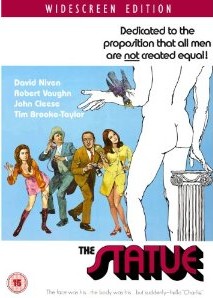 - A review by Richard Harrison (2010)

It is the job of the critic to elucidate a work of art- to unravel the complex strands of potential meaning within it in order to provide insight for an audience who may be less obviously erudite (or obsessive) than the critic in question. Thus, as a critic, one searches for the telling facets of (in my case) a film in order to illuminate the audience in the way one might shine a torch into a darkened room- there may be a questionable amount to be revealed, but it is my personal vocation to reveal it all the same. However, in certain cases one shines the torch into the darkened room only to reveal nothingness- the search for artistic interest being a fruitless one. Unfortunately, a case in point is the 1971 film The Statue, which, despite a very respectable cast, fails miserably on almost every cinematic count.

The Statue has a pretty basic premise- Professor Alex Bolt (played by the ever-debonair David Niven) has invented 'Unispeak'- a new language aimed at bringing the world together and eradicating language barriers- and, as a result, is being honoured with a statue to be erected in Grosvenor Square in London. His sculptress wife indeed creates said statue- but it is a nude likeness of her husband, complete with one particularly large body part. That would be a bad enough premise for any film, but The Statue plumbs the depths of vulgarity in occupying most of its next hour of screen time with Bolt's search for the man whose "likeness" was used to model the statue's most private of private parts. This leads him to pursue a variety of middle aged men and persuade them to disrobe in front of his camera- an astonishing denouement which is as surprising as it is unerotic. Within the fabric of this tawdry tapestry the only bright spots are provided by British comedians (from an enjoyably prominent role for John Cleese to no less pleasing brief cameos from Tim Brooke-Taylor as the police art expert and Graham Chapman as a newsreader) and cult actor Robert Vaughn (post U.N.C.L.E.)

As the main character, Niven meanders through the film like a traveller lost in a foreign locale without a map, his looks of utter bewilderment growing in frequency as the film drags on. Despite what Simon Sheridan says in his accompanying sleevenotes, it is hard to imagine an actor like Dirk Bogarde agreeing to participate in such an unartistic cinematic fiasco. Sheridan's point is that a film like The Night Porter masquerades as "art" (and so is 'acceptable') whereas The Statue doesn't (and isn't). Even Sheridan though struggles to find some positive element, however. 'The Statue still manages to showcase Niven's unquestionable star quality' is the best he can muster. The big question thus raised is why Niven accepted the role in the first place. Insight is provided by Deborah Kerr (in one of the extra features) who states that 'because of that horror he [Niven] had of not working, he accepted parts and…movies that really weren't worthy of him.' That the suave and self-effacing Niven was driven to such a Fate as The Statue turns the film's farce into Greek tragedy.

However, given that the film seems to capture the general zeitgeist of the early 1970s British cinema (which was seemingly awash with sexploitation films), The Statue is perhaps more interesting as a chronicle of the time rather than as a worthwhile piece of filmmaking, but there is still nothing to commend it- the music is execrable, the plot developments clunky and risible, the whole concept misguided. With such a pedigree it would, for once, seemingly be hard to recommend this new Odeon Entertainment release. However, the hidden gem is the extra feature- a 50 minute Granada documentary from 1983 entitled Conversations With David Niven which utilises archive interviews to weave the actor's life story. Throughout the clips Niven is charming, modest, amusing, and never less than entertaining, the clips themselves charting the career exploits of a man who is much more than the sum of his films.

Exactly how many people purchase DVDs for their extra features rather than the "main attraction" is debatable, but one thing that isn't is that although The Statue is a dreadful film it is an essential purchase for any David Niven fan, or cineaste full stop, simply for the extra feature which is compelling in every respect.

The Statue is available on DVD from Odeon Entertainment.

---