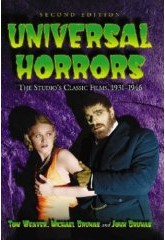 'Universal Horrors: The Studio's Classic Films, 1931-1946' By Tom Weaver, Michael Brunas and John Brunas , North Carolina & London: McFarland & Co. Inc., 2007 (Second Edition). ISBN 978 0 7864 2974 5 608pp. (hardcover) £35.50

There is no doubt that certain periods in film history have been- and forever will be- intrinsically linked with certain genres which, in turn, are linked with certain studios. Thus, as a discussion of the 1930s gangster film cycle would be unimaginable without calling the two words "Warner Brothers" to bear, so too would be a conversation about 1930s horror movies- in this case the name "Universal" is inextricably associated with a genre it helped to define.

The scope of Universal Horrors is substantial, as it presents a detailed chronological overview from the well-known Dracula (1931) to the equally lesser-known The Brute Man (1946) plus brief critical comments regarding what the authors call 'Exclusions, Borderline Inclusions, Odds and Ends' (p.565 onwards), 'Universal Serial Horrors' (p.578 onwards), 'Universal Horror Oscars' (p.583 onwards) and 'Screen Gems Shock Television Packages' (p.584 onwards).

The strength of the book is in its meticulous attention to detail, as it avoids the over-ploughed cinematic fields of just discussing the landmark Universal films (to the exclusion of the more minor entries in the Universal canon) in favour of farming filmic pastures new. Thus, each release is treated to the same level of initial detail- although, of course, the more historically significant the film is the more contextual background is provided. As a result, the general reader and academic can find much of interest, as, of course, analysis of the "classics" is there, but Universal Horrors also adequately reflects on a host of Universal films that ruefully languish in the vaults (a case in point being Secret of the Blue Room (1933), astonishingly unavailable on both VHS AND DVD at time of writing).

The approach to studying Universal's large and varied legacy is a logical one- plot detail is provided, as is a full cast listing and (in a nice touch) contemporary critical comment. These factual aspects rub shoulders (though at times rather awkwardly, it has to be said) with the authors' opinions as to the merits (or otherwise) of the films in question. The result is a book that provides an effectively concise summation of 15 key years of horror films from the studio that helped delineate the genre.

Given all its successes, it is lamentable that the book has certain failings which gradually grate on the nerves of the reader. Perhaps the greatest problem is the authors' opinions, which emerge far too strongly at every given turn- overpowering what would otherwise be highly readable and fascinating information. A book such as Universal Horrors, being so comprehensively researched, should be a reliable guide and offer incisive comment on the films it discusses. Instead, after an excellent start to a chapter on Dracula the book decides to almost totally abandon its main focus for a vitriolic attack on Tod Browning's directing skills, personality and modus operandi. The criticisms levelled at Browning (and Dracula in general) are surprising considering the film's legendary status but, although damning comments relating to the film itself are supported by evidence, the less justified ones pertaining to Browning taint the book with a feeling of injustice.

By contrast, the authors' soon turn their attention to The Mummy (1932) with great glee, citing it as 'an undisputed classic' (p.64) (original emphasis), and have barely any word of criticism to offer relating to it. The film's structural similarities to Dracula allow yet further unfavourable comparisons to be drawn between the two films which undermines the academic tone of the book once again.

Although, as should be obvious from the above, the authors have their favourite films (and favourite people!), sometimes their evaluative comments leave the reader a trifle bemused. A case in point is the Sherlock Holmes classic The House of Fear(1945), which is bitten into ('moderately interesting but mostly unmemorable', p.468), mulled over ('it's actually slow-moving and talkative', p.470), then finally spat out ('it's in no danger of ever being called anyone's favorite[sic] Holmes picture', p.472) as if the authors were royal food samplers for the regal pleasure of the reader. This reader is quite capable of making his own reasoned judgements- the amount of sheer opinion in Universal Horrors makes the whole reading process, at times, like consuming a delicately flavoured piece of fish which someone has liberally doused in a rich sauce- the true essence is lost 'neath the unwelcome additions. (I should add at this point that The House of Fear is one of my favourite Holmes & Watson films, if not the favourite!) The comments made do, as I have argued, detract from the quality of information present in the book, especially when the words of wisdom seem misguided- the authors feel that 'the plot [of The House of Fear]...doesn't hold up to scrutiny [as] it just doesn't stand to reason'(p.470). Hmm. I would suggest that the authors do not investigate film history too closely- for they are in danger of some nasty shocks...especially when one considers fantasy films.

Given the book's main focus- Universal Studio's horror output, it is understandable that critical comment on the serials that "qualify" (even in a tenuous way) for inclusion are of necessity brief (the book has run to nigh on 600 pages already!). Even so, the comments regarding the classic 1936 serial Flash Gordon, an accepted landmark of the serial genre (and not in my view including enough conventions of the genre to make it a horror), are immaturely unforgivable. After a whistlestop resume, the authors' dismiss the serial thus: 'for kids of all ages; others need not apply' (p.579). What does this actually mean? It is clear that the writers do not regard the Flash Gordon serials wholesale as worthy of any merit whatsoever, but they make no attempt to justify their bias. Once more, a worthily seminal study is let down by frivolousness and throw away comments that are guaranteed to antagonise the very people the authors should be cultivating! One of the many strengths of serials like Flash Gordon is that they instilled into those who saw them (even when re-released years later) a palpable love of cinema which was to stay with them for the rest of their lives. (It should be remembered that without Flash Gordon there would be no Star Wars saga, such was the impression made on a young boy named George Lucas who saw the serials at an impressionable age).

It is inevitable that, considering the disparity of views amongst art critics of any sort, that no approach will be wholly satisfactory to everyone. This is indeed the case for this reader and Universal Horrors. Yes, there are many strengths and much detail in its pages, which will hopefully serve as a reminder to Universal just how many interesting films it still has locked up in its archives that are begging for a DVD release. However, Universal Horrors also contains too much largely unjustified conjecture, opinion and almost disrespect for the material that has, after all, enabled the book itself to be written! True, a study of this kind does not need to worship hallowed ground every time it comments critically on its subject-matter, but it does need to maintain a certain academic distance- the authors of Universal Horrors do not keep this distance, and their work suffers as a result.

'Universal Horrors: The Studio's Classic Films, 1931-1946' is published by McFarland & Company.
---